Its now at the time of year when I like to post a few of the remarks that I receive from the wonderful and loyal customers of Don's Footwear, I would like to start by sharing a message that I received from a gentleman that I managed to meet in person on my Turk Show visit to L.A
"I am a U.S. resident and have been a Don's Footwear customer since 2017. The quality of the shoes and boots that Alan Donnelly creates and manufactures are unparalleled. Simply put, you will have an extremely difficult time finding a bespoke shoemaker that dedicates this level of craftsmanship and attention to detail while combining style with the highest standard of materials. Many of the pieces I have ordered from Allan and had delivered to me are reminiscent of 1920's and 30's type footwear in terms of the material quality and style. The consistency to detail and level of precision is constantly evident; even with almost constant and continuous wear. If you are looking for an incredible level of dedication and quality, Allan Donnelly's footwear is going to be extremely difficult to top. The products created and produced by this company are, to put it bluntly, the best I've seen. You will not regret adding Don's Footwear to your list of preferred establishments."
-----------------
Below is some of the feedback that I received personally via email, Naturally I have removed all the names.
18th Dec
Hi Allan,

Just letting you know that the shoes arrived today and I am blown away by them. Not only by the skill used in creating them but the fit is something I have never experienced before. As soon as I slid the first one on, I knew they were amazing and now I know why people pay for bespoke shoes.

I can't thank you enough for managing to finish these off and have them delivered for Christmas and yes, the customs got me, which I don't mind, it's just the extras that they charge which is annoying.

Once again thank you for such a professional approach to help a newbie into the world of bespoke shoes.

Yours sincerely
-----------
My man....ill would give you a hug...but we too far....thank you from the bottom of my heart. I'll be ordering again from you soon. Thanks.
------
16th Dec 2021
Shoes are here. These are stunning mate. Thanks so much
28th Nov 2021
Thank you for the beautiful shoes, Allan!
-------------
18th/Nov/2021
Hi Allan,
The shoes just came in. They look great ! Thank you for making & shipping them in a short timeframe !
Have a great weekend !
Regards
---------------
8th Nov 2021
Hi Allan,
I got the boots on Thursday and they look beautiful. I'm so impressed with your work. I have at least 14 boots or shoes from you and I'm sure I will order more in the future.
I'll make sure to make a comment on your website.
Thank you,
Anthony
13th Sept 2021
Allan,
Another masterpiece. Latest shoes are built like a fortress and look like a palace. Brilliant work sir.
Kind regards,
--------
10th Sept 2021
Hi Don just thought I'd let you know I'm going away in an hour and the boots just arrived on my doorstep! The quality of the boots are absolutely excellent you sir are a master craftsman!
Kindest Regards
1st Sept 2021
Hello "Don"/Allen,
Just want to say that you are the best. I've bought a couple shows from you and they have held up amazingly well. Big props to you and your company!
26th July 2021
The Fossatos that you made for me are a masterpiece. Best footwear that I have ever used. Perfect fit right out of the box. Easiest to take on and off. And what I had asked you to do is not easy, to make a stable shoe with that degree of elevation, but you did it. What else can I say besides, "Thank you!"
17th July 2021
Just received the shoes today it was absolutely gorgeous. Thank you. Will be ordering another shoes on the first of next but hopefully it will get here sooner.
12th July 2021
I really love the boots. Thank you so much!
6th July 2021
Hey Allan,
I just got the shoes and they are PERFECT! A true work of art! I can't wait to order my next pair. Thanks for keeping me in the loop with pictures and answering all my questions.
25th June 2021
These are the best pair of shoes I've ever had. I'm glad I took advice from the Karavel shoe expert. He told me I'd need exact measurements for my wide (while short) feet. These don't hurt at all and don't need that excessive break-in, I usually do for size 8 shoes. because the instep is too low and the shoe is way too narrow.
21st June.
Hi Allan,

Received the suede Cacciatore boots and it turned out great. Looking forward to another pair in the near future, possibly in a Chelsea Boot Style.
21st June 2021
Beautiful boots.
Thank you!
28th May 2021
Shoes arrived and they fit great. Thanks. I will be in touch soon for my next pair.

25th May 2021
I just wanted to let you know I am beyond satisfied with these, they look and feel incredible. I will be ordering more soon.
Cheers
21st May 2021
Hi Allan,
Just to let you know I received my boots yesterday and Absoutley over the moon with them. Can't wait to wear them. If you would like me to leave a review or anything anywhere please let me know. Hopefully can order another pair in the future.
Thanks for all your help
14th May 2021
Hi Allan
Just got the boots.
Absolutely amazing and extremely comfortable.
Rubber sole looks like it could stop artillery fire!
Please let me know where I could leave you a review.
Thanks again!
10th May 2021
You are the most in touch guy to your base in the business!
22nd April
Hi Alan ,I custom ordered two Chelsea suede boots over 4 years ago.They are still like new.I saw my special order in video on your website,I now live In Miami Fla.Love the boot and seeing it on video,Thx
19th April
That picture has only the pairs made by you. Thank you Allan, sincerely, for dramatically increasing my quality of life. You can't even imagine.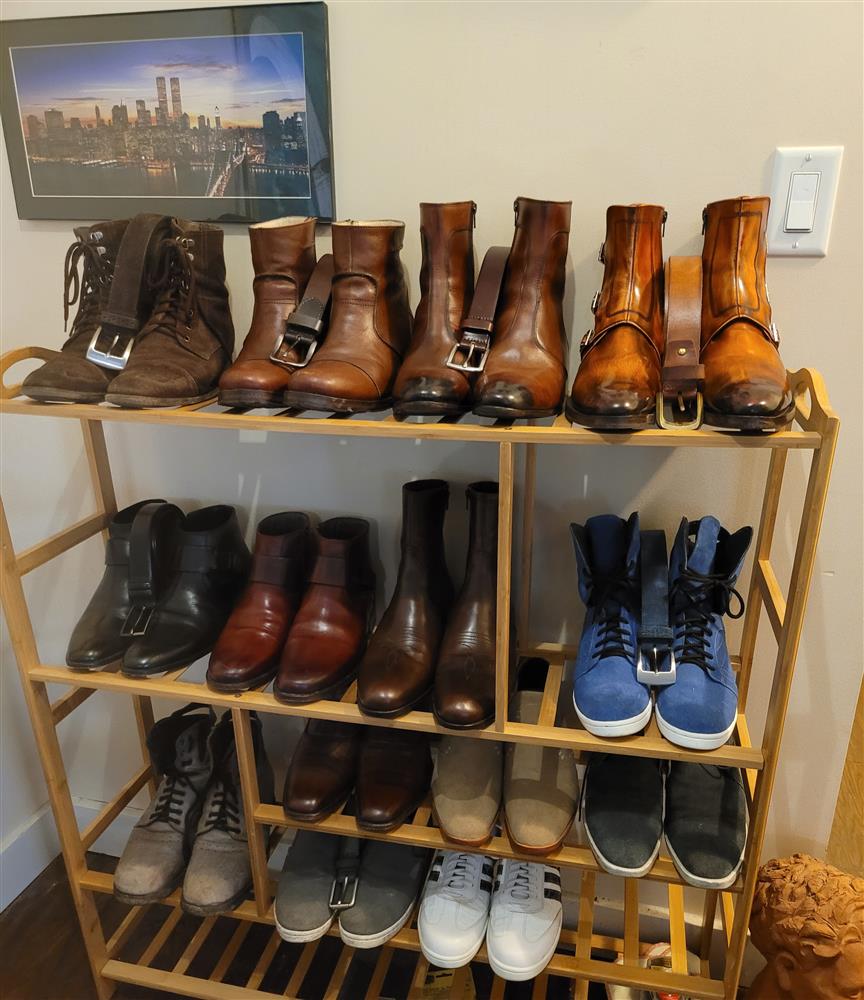 8th April
Wow they are so beautiful!!
Thank you again, I love them
7th April
Love them. Thanks. I will look and see what I want next and send you a picture and we can start a new pair.
27th March
The addidons arrived today.
I love them! Can't imagine how someone returned them, I'm very impressed as usual
17th March
Allan:
Thanks for such great expedient freight service. The boots are The Best I have ever seen or worn. Just magnificent.
I would please ask for one minor adjustment for my next pair of boot. Just for my own comfort level and for eaaier fit with a normal straight pant leg, could you please reduce the very top of the shaft of the boot by one inch. I included a pic for a visual. The body of the shaft itself is perfect, but the very top is a bit wider than I am used to in cowboy boots. Every other aspect iscabsokutely perfect. Thank you.
AWESOME BOOTS!!! @TexasXil
1st March
I got the shoes last night, they're really fantastic. Thank you once again, the quality of your work is excellent. I realized I've been buying from you for 10 years now...starting with that unfortunate flood in Thailand!
13th Feb
Thanks so much Alan—the last pair my fiancé loved so much she demanded I get another pair :)
Mark
27th Jan 2021
Hi Don,
I am happy to share that the booths arrived Yesterday. My son Travis was elated. He said that the boots were a work of art.He loves them. We will be doing more business in the future. Thank you for the workmanship and the constant communication.
25th Jan 2021
I realize this was YEARS ago and wanted to again thank you for glorious shoes. I love everything about them and still wear them regularly!
5th Jan 2020
Hi. Is there a place I can leave a review for you? These are some of the best quality shoes I have ever owned. Thanks again, - Daniel
3rd Jan 2020,
I received the shoes and I must say! You have really out done yourself and the shoes are great!!! They are awesome!! I hope you make more different styles in this new sneaker athletic shoe line of yours. I love it and I may just order another for my work and make it with black rubber soles!
I really like them! Thank you very much!
1st of Jan
Dear Allan,
I want to thank you tremendously for the best pair of shoes I've ever had. Everything about them is remarkable and I look forward to coming back.
Thank you all once again! Here we go for 2022.